The Way In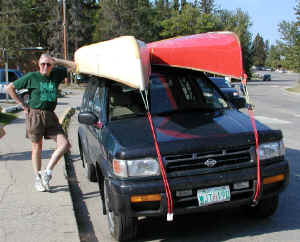 (Click on any picture to see a larger version)
We could have taken two cars, but thought we could rig an ad hoc canoe carrier out of two 6 foot long 2 x 6s, ropes and bungees. The two canoes just fitted.
We were away by 9.40 am, drove the 60 km. to Waskesiu and stopped there to check with the Park Ranger. Then it was another 45 minute drive along the length of Waskesiu Lake to the Kingsmere River.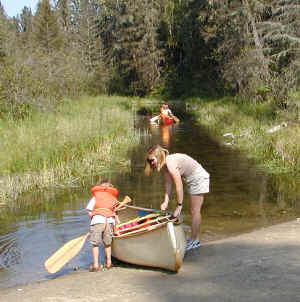 The river was low at the put in point
but we loaded and paddled and scraped our way up the river towards the tramway.
[ Up ] [ 1 The Way In ] [ 2 Kingsmere River ] [ 3 Kingsmere Lake ] [ 4 Narrows Peninsula Trail ]